Serenity is a new way of showering experience(s) that mimics elements from the nature to the bathroom environment to create a experiental shower enclosure. Serenity combines natural elements

such as

 with fog, mist and steam with other 

environmental elements including light, aroma, sound and CMF considerations. The aim of Serenity is to

re
imagine personal space with the world's smartest bathroom. Smart products such as enclosure, lighting fixtures, smart mirror, application have the ability to transform the bathroom into a nature by  using light, sound, color and water. 
My responsibilities:
Secondary & Primary Research, Analysis & Strategy, Persona Creation, User Journey Mapping, 
User flows and wireframes, 
Prototyping & Usability Testings, Color & Material
Duration:

 
 2017 [5 months ~ internship project with Xinyao Liu]
According to our quantitative research, today people have to live distant from nature even if they do not want to.

78% of workers put their stress levels from medium to high, which makes it harder for them to change their mindsets to relaxing lifestyle after work: they seek to relax. One of the common methods of relaxation is to find a balance between daily routine in city life and meditation through nature.
Why is nature important to us? From our research, it's proven that the elements of nature can make us calm down and get refreshed. What do we mean by these elements, we got inspired by light, fog, water and sound from nature. And we are fascinated by how they created naturally.​​​​​​​
From the consumer trend out brief in 2017, consumer tend to refocus luxury around wellness. Rising numbers will now expect brands to embed innovative health-boosting technologies around them.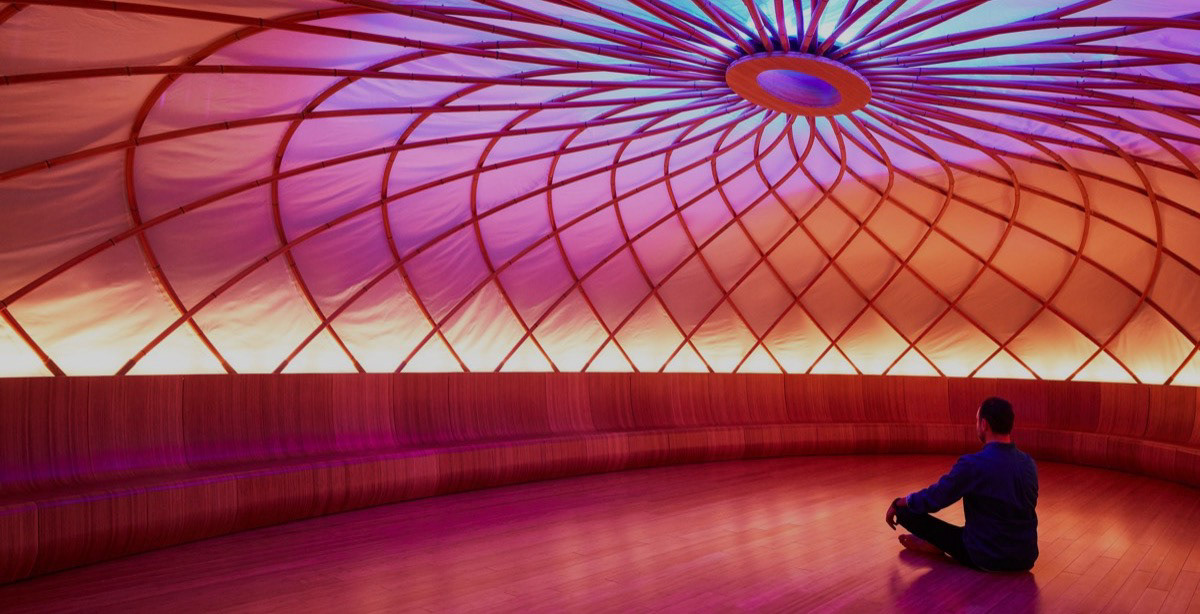 These are two profiles from Karten design research and their words. We found that people see showering as their"me time". It's their own time to relax. 
During the ideation phase we used different levels and density of fog and different colors of lighting in order to mimic natural elements for these themes. 
Bringing those nature elements together, Dreamy aims to give users a enchanting experience, and makes them really appreciate this "me time" and get relaxed.​​​​​​​
Based on these various natural experiences that we aimed to create, we worked on design ideation to have a better understanding of how should product look and feel from customers' point of view. Experiments during the ideation directed us to have a structure of higher level on the surrounding and lower level on the inner part. For the gesture and form language details, we tried to communicate a feeling of "dreamy" and "airy" for more sensational experience. 

 We got inspired by natural and organic forms, and applied a rounded/curved square to the overall friendly gesture. 
MIMICKING NATURAL ELEMENTS
Dreamy aims to support consumers through uncertainty, champion home as one's sanctuary by refocusing luxury around wellness in a minimal and subtle way. 
When Mary enters to her enclosure, switching glass changes from transparent to opaque, while lighting and sound gently welcome her. This enclosure brings her to the sunset by the ocean by mimicing the natural elements of the selected theme that she wants to experience. Combination of lighting from various sources and the fog from the ground just make her feel like she is walking near the sea during the sunset. The experience is enriched by the sound from the nature. At the end of her showering the light changes to more purple and blue, as a gentle send off to Mary.
Even without elemantary effects, the objects and materials are elegant and gracious to be appreciated . We used marble as the accent wall, and applied rose gold to the metal finish and added Hinokiwood to give a feel of warmth. Lighting and fog slots are hidden to give more natural effect. The surround drain matches our elegant design language.

​​​​​​​ 

If the user prefers rain head option, that could provide different water options, including water curtain, real rain and stream water. With multi-function hook, it's easy for users to add the swing, remove the swing or fold it on one side of the wall to save space.​​​​​​​
​​​​​​​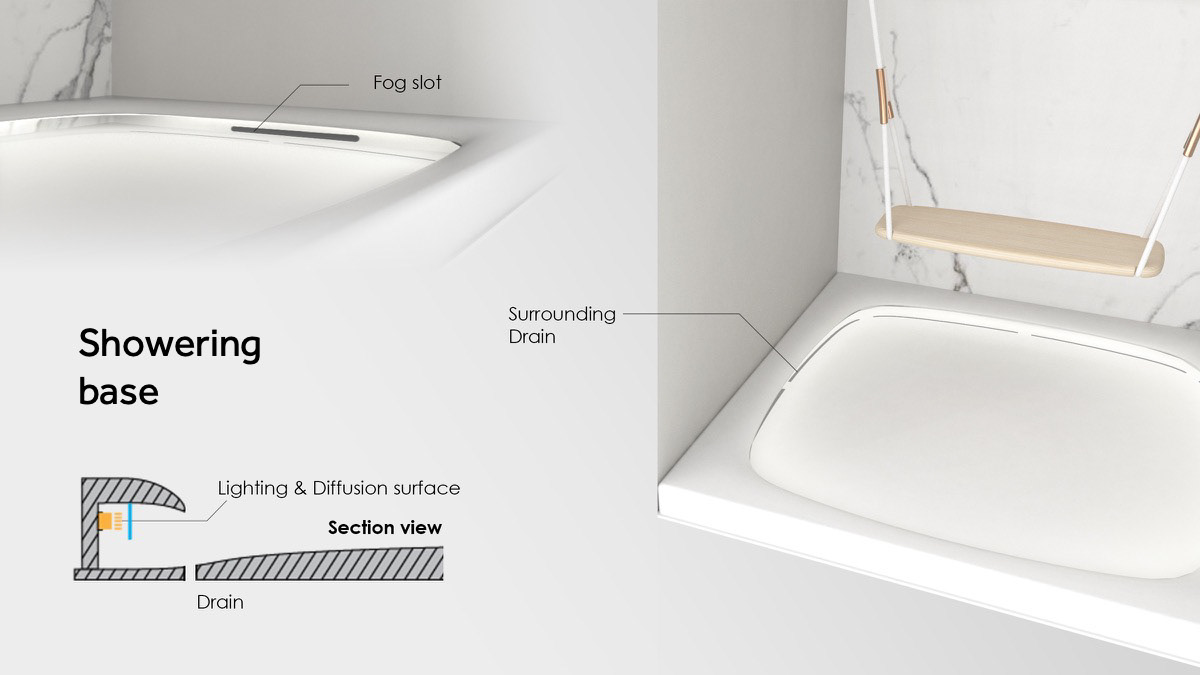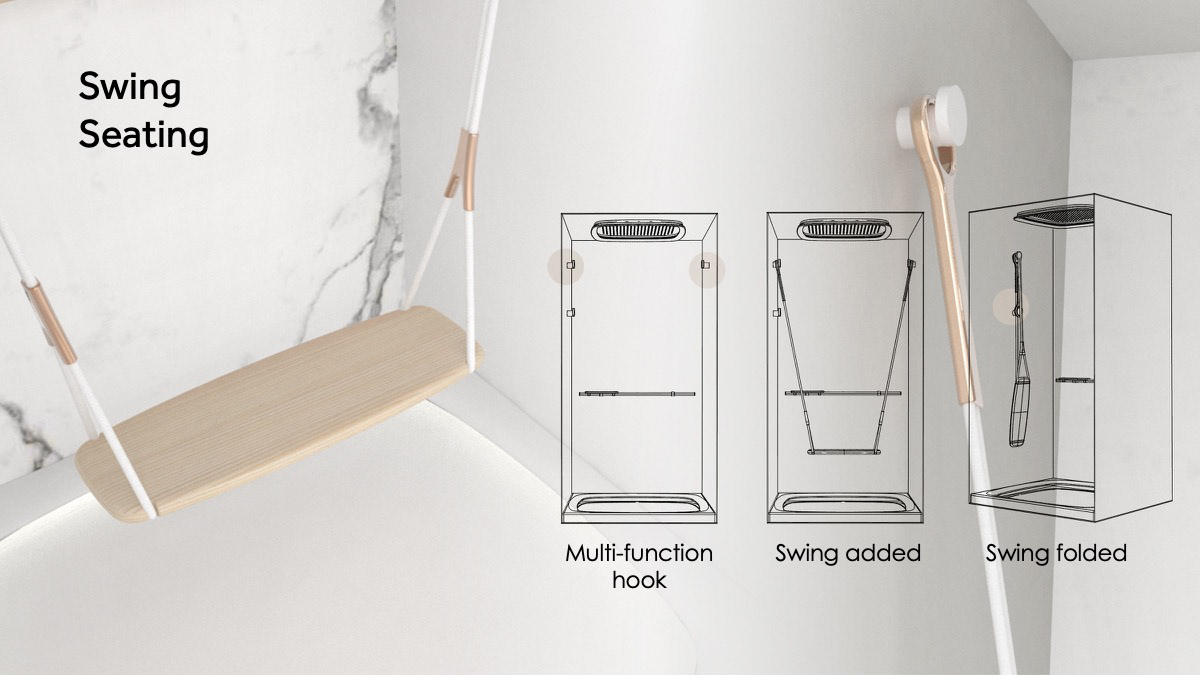 EXPERIENCE FLOW- TAKING A SHOWER 
Some innovation start with systematic approach, while some may start with a stroke of insight . 
While we were working on design concepts, we asked to ourselves 
"Why should showering enclosure always be a box? " and "What if we use fog as a unique enclosure?"
​​​​​​​
During the ideation, the main intention was to use fog curtain as a unique enclosure. Moreover, 

creating contrast effect by combining rough materials with elemental design was challenging. We were also intrigued by the overflowing ponder, and including hot water circulation in the tray to provide warmth to user. Then we picked this curved rounded square as the form of the tray and worked on unique design structure to support this.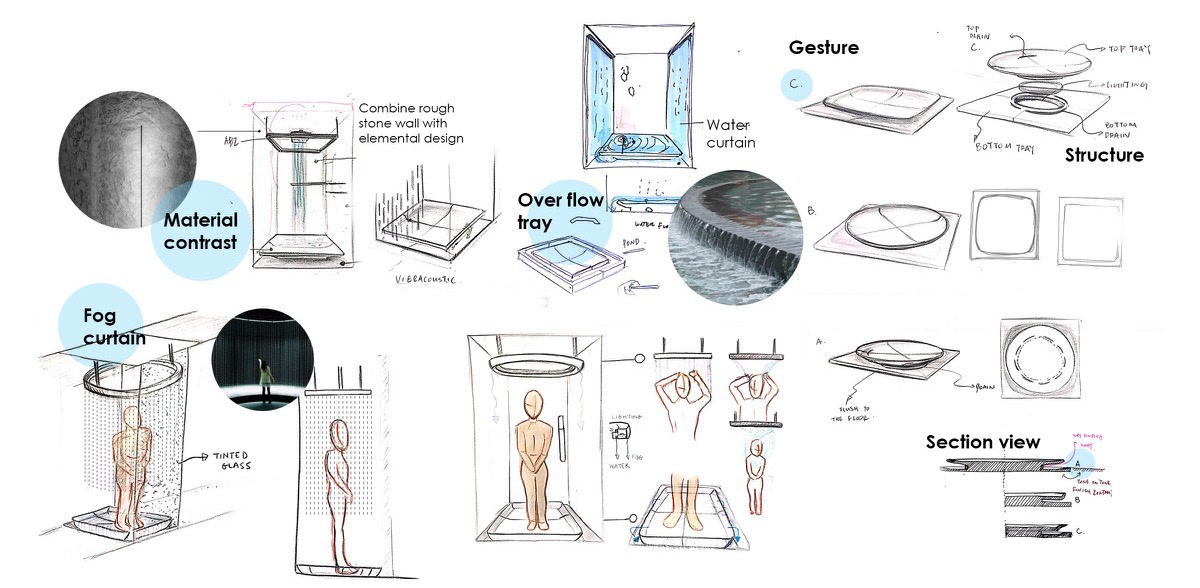 The lighting on the top is hidden inside of the ring layered with two different sections for water and fog source. Structurally ultrasonic foggers could be placed either inside of the ring OR placed as a fog structure on the ceiling. 
Infinite showering tray, the user can basically feel that he is standing in the pond with overflowing water. Tray is also enriched by wayfinding light.
In this concept CMF choices were very important to create intensity. 
We used vibrant titanium for our ring pipe and hand shower. We combined Wallace Creek and polished black tile combination for the contrast effect of the wall.
We used tinted glass for the entrance wall and it includes our pipe and connectors inside of it so that our user can turn on the water without entering the enclosure. 
We used black matte carved textured tray and surround it by dark walnut slatted floor for the water source.
We generated alternative possibilities for the ceiling ring to generate real rain, waterfall or helix effect. When we can successfully change both  section and angle of the water source we would create the intended effects.